OeHealth
A Healthcare Solution that meets your entire Hospital Management Needs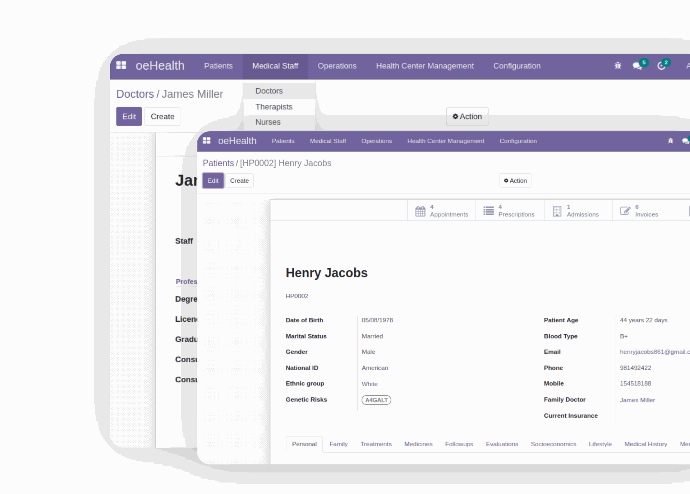 Overview
oeHealth, a very popular Odoo Hospital Management Solution now launched in latest Odoo 16 with some new latest features for a seamless Health center management needs. OeHealth, is an apt solution for all kinds of health centers ranging from medical clinics, nursing homes to Multi-specialty Hospitals. Now avail the combined benefits of oeHealth and Odoo 16 for a smooth healthcare management.
Patient Details
Record all the necessary information related to patients such as personal & family details, prescriptions, appointments, diseases, insurances, lifestyle, mental & social status, laboratory test details, invoices and surgical histories.
Smart Button for Patient Card

Active-Inactive patient status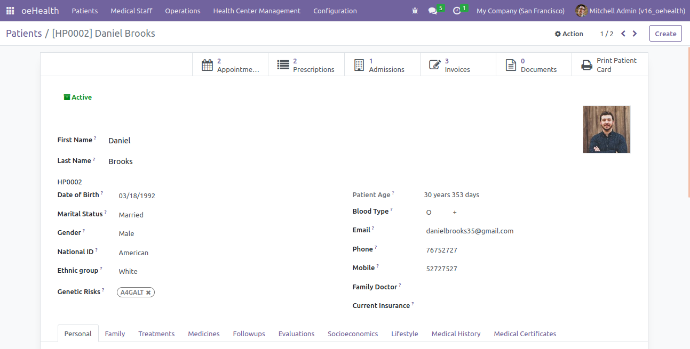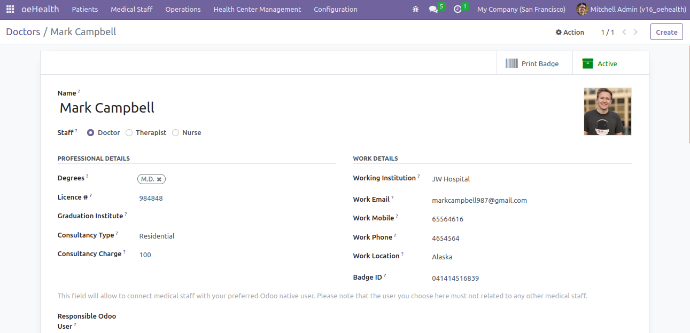 Manage Medical Staff
Configure medical staff members such as doctors, therapists & nurses.

Record important details regarding their availability, personal information, qualifications, consultancy charges.

Print Badge ID of medical staff.
Appointment
oeHealth appointment feature is available for both doctors and patients to manage their own checkup schedules.

It is also tightly integrated with Odoo's calendar control so they will be always updated for your upcoming schedules.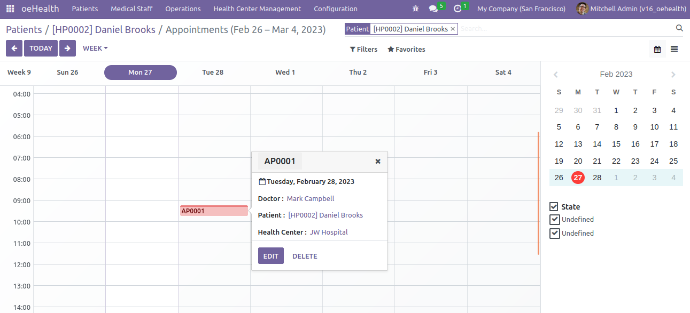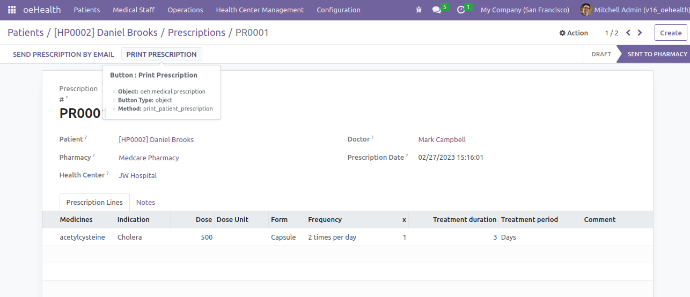 Prescriptions
Generate prescriptions easily by listing the required medicines with dosage information and frequency for consumption.

Create invoice for the generated prescription to be sent to in-house pharmacy and accounts department and send as an email directly to patient.
Inpatient Admission (IPD)
Manage admission procedure of your patients with super easy inpatient hospitalization process, wards and beds reservations.

The doctor can add therapeutic diets, nursing, and discharge plan information in the system to perform the effective treatment.

The module also allows doctor or health center administrative team to automatically raise payment notification at the time of patient discharge.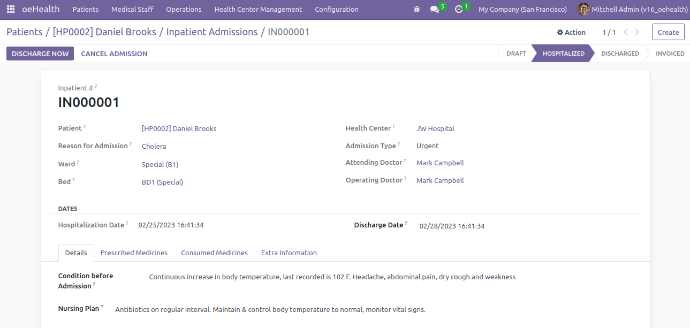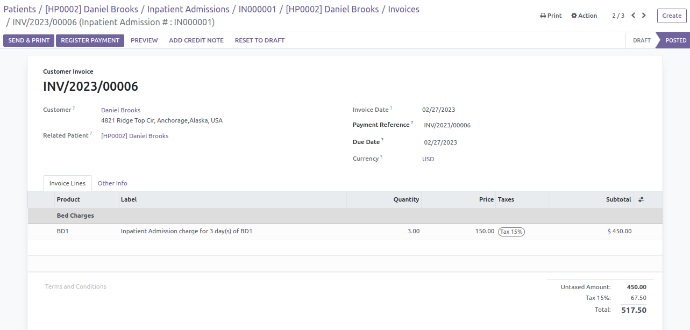 Accounting & Invoicing
oeHealth is tightly integrated with Odoo's default Accounting & Invoicing features.

You can easily raise invoices for different services like Doctor's consultations, Prescriptions, Lab test & Inpatient admissions directly from the app and manage different accounting tasks of your health center.
Dynamic Settings

 Management of most important oeHealth operations through centralized settings option available under Odoo's General Settings panel.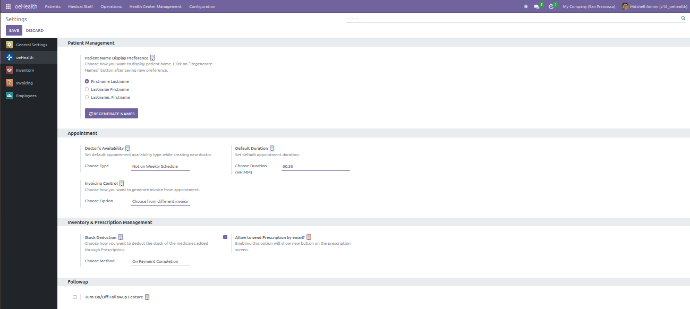 Take Patient Picture through Webcam
Now doctors can take their patient's pictures directly through Webcam instead of uploading from your device storage in a traditional way. oeHealth automatically detect the webcam attached to your computer and allow you to take patient's pictures instantly.

Patient Injury Examination Procedure
oeHealth now brings you an ability to record important examination details of your patient's severe injuries or accident history for emergency cases. Doctor can directly admit the patient into the health center or record the details & reason of death if patient is diseased during examination or while arriving to hospital.

Treatment & Services Management
We have enhanced Appointment section that gives ability for doctor to add details of various treatment products or services during the consultation session and raise invoice for them.

Intensive Care Units Management
Configure all the ICUs of your health center and system will allow you to manage their operations & rounding procedures during patient admissions and give you the ability to perform extensive discharge activities.

Followup Management
Followup is an important act of making a contact with your patient at a later, specified date to check patient's progress since his or her last consultation. oeHealth allows you to record the next followup date at the time of appointment completion or prescription submission.

Settings
Now manage important oeHealth operations through centralized settings option available under Odoo's General Settings panel.